Salmon School at COP26
Collective Action
Leading salmon conservation organisations from around the world have come together for the benefit of wild fish populations. We are proud of the role we have played, as part of the Missing Salmon Alliance, in bringing the remarkable art installation: Salmon School, to COP62.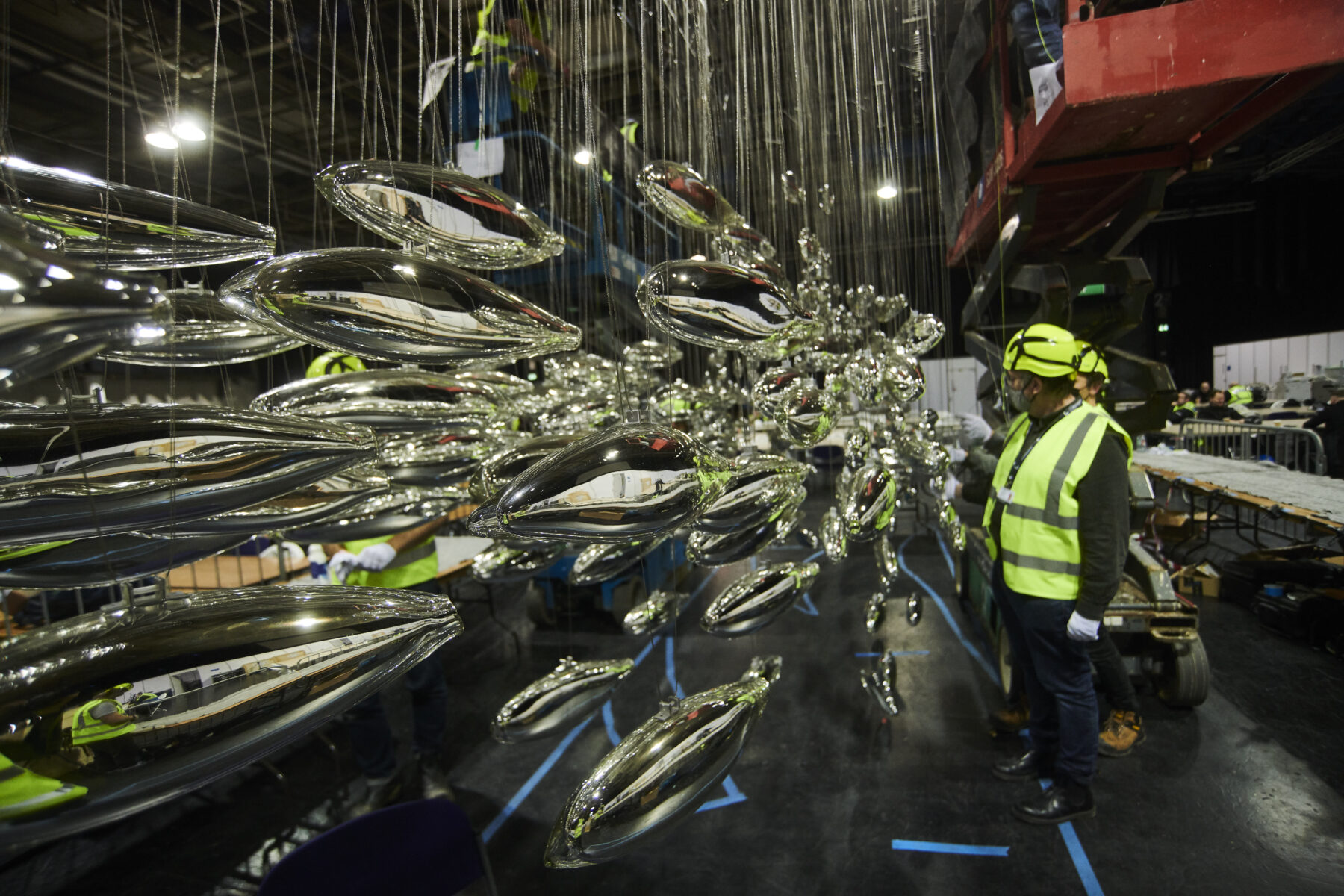 This important installation, conceptualised by artist Joseph Rossano, is an international, multimedia art exhibition that motivates communities to tackle the issues facing salmon populations, and to therefore address climate change.
Salmon School brings the topic of salmon conservation to the climate change discussion, encouraging us to use salmon as a vehicle for change to protect all species – including ourselves.

What does this installation highlight?
The installation features a life-size school of mirrored salmon-like forms and conveys the message of danger and hope symbolised by this majestic fish. Salmon School aimed to inspire delegates at COP26 to make bold decisions that will change human behaviour and restore the earth to a safe habitat for all species, including salmon.
Through an international collaboration that was formed to bring Salmon School to COP26, the installation illustrates stories from a wide range of global communities on how climate change and biodiversity loss are affecting and directly impacting a prolific species.
This remarkable installation has taught us that salmon need cold, clean water. If we give them that, we are giving them a better chance to survive, and thrive, in our rivers and at sea.
Goals of COP26
How does Salmon School directly address the four goals of COP26?
Carbon Net-Zero – Cold, clean water is critical for wild salmon survival and is vanishing due to rising global temperatures, pollution, deforestation and damming – all caused by humans.
Adapt to protect communities and natural habitat – Salmon communities have identified that large-scale adaption measures are needed to help the survival of the species and themselves.
Finance – Significant investment is needed and the financial model needs to change to ensure funding and investment are not destroying the very environments salmon and humans need to survive.
Working together – These international organisations are collaborating for the first time to save our wild salmon across the globe.
The Salmon School has produced a short overview that defines how safeguarding salmon helps to achieve these important objectives. Read this in full here.
Wild Atlantic salmon: more than just a fish
This iconic species can tell us so much about our rivers and oceans – if all is well with salmon, all is well with the world. The time is now to be bold for salmon and do more to better protect wild fish populations, ensuring they have cold, clean water, so future generations don't miss out on this flagship species.
Visit the Salmon School website here.