Somewhere along their journey, wild salmon are disappearing
Out of every 100 salmon that leave our rivers for the sea, less than 5 return—a loss of nearly 70% of the population in 25 years. If this decline continues, the iconic wild Atlantic salmon could become an endangered species in 10 years' time, disappearing from our waters altogether in just 20 or 30 years.
We need to find out what is happening to our salmon on this journey, so we can take steps to inform river managers and policy-makers on how best to implement practical management solutions to protect wild Atlantic salmon, and sea trout, in all areas.
Solving the mystery of our missing salmon
When launched, the Moray Firth Tracking Project was the largest, most ambitious acoustic tracking project to be undertaken in Europe.
The Moray Firth—the route taken by 20% of all salmon that leave the UK— was selected for this reason. The project uses acoustic telemetry to track young salmon (or 'smolts') through our rivers, estuaries, and out into the ocean. This research will help us find out:
The migration pathways of our salmon
The 'likely suspects' contributing to their decline
How to improve their chances of returning safely to our rivers, both in the Moray Firth and across the UK
The Moray Firth Tracking Project Activity
Year 1: what do we know so far?
During year 1, our team of scientists and volunteers have taken a positive leap towards discovering what is happening to our salmon.
Initial results suggest that around half of our smolts are going missing in action as they move down our rivers.
Whilst these results are surprising and clearly concerning, it's encouraging to know that we now have evidence that can guide focused and effective solutions to the problems facing wild salmon.
Year 2 and beyond: what's next?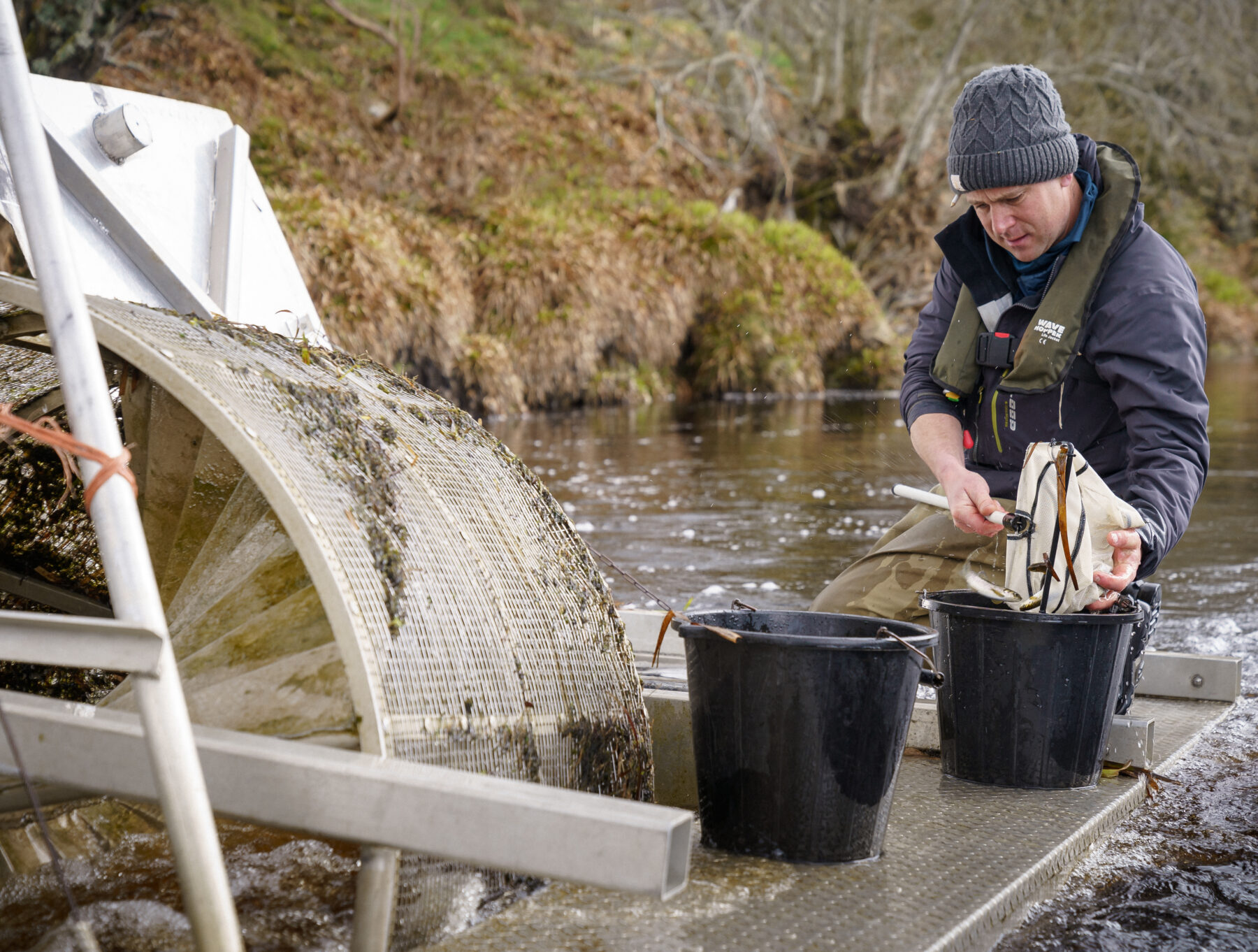 Alongside supporting our colleagues at the University of Glasgow to analyse the findings from Year 1, we worked tirelessly through the spring months to deploy 270 acoustic receivers in advance of the smolt run, before tagging our smolts and tracking them on their journey to sea.
All equipment was retrieved in autumn 2021 and our telemetry team continue to analyse the information they gathered. We are beginning to learn that our smolts are facing clear man-made impacts during their migration, and the findings are showing patterns and trends similar to what we learned in 2019.
A full report of what we have learned from the 2021 study will be available soon.
Watch our brand new short film that documents the groundbreaking work carried out in Spring 2021 for Year 2 of the Moray Firth Tracking Project.
Our Focus for Year 3 (2022)
Plans and preparations for the third and final year of this ambitious project are well underway.
Over the last two years of this study we have identified where our smolts are going missing, with the biggest losses taking place in standing bodies of water. To plan effective mitigation to increase smolt survival during their migration we must explore this further to fully understand why.
We have refined the design of this years' work and will be focusing our efforts on the River Spey, Deveron, Ness, Oykel and two lochs in the Scottish Highlands. During the final year of this project, we are looking more closely at predator behaviour in and around lochs and canals. In addition to using eDNA to sample bird and mammalian predators, such as cormorants and otters, we will be targeting two fish species likely to predate smolts: brown trout and pike. Entirely unique to this year, we will be acoustic tagging several rod-caught fish (brown trout and pike) to observe their behaviour before, during and after the smolt run takes place. By comparing behaviour in a natural loch to a modified one we will observe any interactions with tagged smolts to learn more about if, when and why our smolts are more at risk from predation.
Why we need this information
We need sound, science-based solutions to make a real, impactful change for this iconic species. Through this work, we are making important discoveries about how our fish migrate out to sea, whilst identifying the risks that they face along the way.
With the information gathered during this three-year project, we can advise how best to tackle these risks and help to guide river managers and policymakers to take positive action that will safeguard the future of wild Atlantic salmon.
Support our salmon
To continue this vital work, we need your support. Your donations will go towards solving the mystery of our missing salmon, and will help to secure a sustainable future for this remarkable species.
If you'd like to be the first to hear further updates when the Moray Firth Tracking Project you can sign up to our newsletter here.