We are very honoured to have businesses supporting the work of the Atlantic Salmon Trust. Corporate Partners of the AST are giving something back to help the species that they are so passionate about, and which provides them with their livelihood. Helping efforts to conserve and enhance wild salmon and trout stocks, and their environment, for the future forms part of their corporate and social responsibility.
Here we are pleased to provide you with an update from our supporters Alba Game Fishing – www.albagamefishing.com
---
"We've been doing a lot of salmon fishing on the Tay and Spey, teaching beginners Spey Casting.
Dan and Ron from Texas spent a week in Speyside, then on to the River Alness to fish for trout. They married the experience with some touring of Speyside and a trip to the West Coast to fish a trout loch from a drifting boat. Over the week they learned various Spey Casting techniques, fished Wester Elchies and Brae Water 2 and 5 beats and the River Alness and trout lochs. The Spey was high first two days with snow melt, conditions were not the best and on the 3rd day Brae Water had clearer water but fish were running through. Despite that Ron had a hold of a fish briefly. Some great trout were caught on the lochs. When fishing conditions are less than perfect, and we have guests on Spring salmon breaks we manage expectation correctly and because of this the guys really enjoyed the experience and relaxed into the vacation. We worked with our partners SalmonQuest on this vacation, with Roger and I guiding on a day together and Roger taking them to Wester Ross on a tour and fishing the secret trout loch.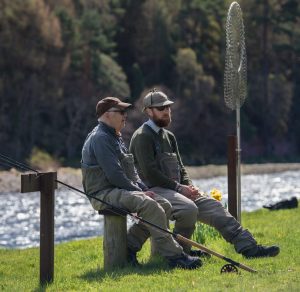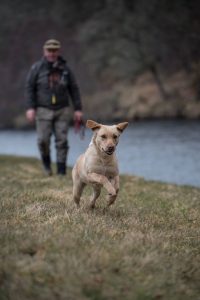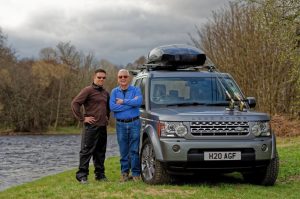 These guys (below) Ben Leith and friends came for a birthday day on the Tay, we provided gourmet lunch and birthday cake and the group split into salmon and trout anglers. Here they are at the end of the day enjoying a wee dram.."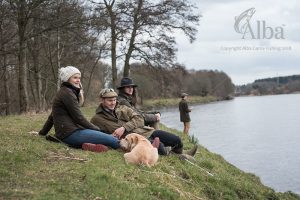 Post written by: Stewart Collingswood, www.albagamefishing.com