Fisheries Management Scotland has been receiving reports of Atlantic salmon exhibiting signs of red 'rash', bleeding and/or ulceration. Fisheries Management Scotland are liaising closely with Marine Scotland on this issue and they have produced an information sheet with some frequently asked questions.
In light of the increasing reports of this issue, a new publication Red Skin Disease in wild Atlantic salmon – a severity field guide has been jointly produced by Marine Scotland Science, the Environment Agency, Natural Resources Wales and Inland Fisheries Ireland. The field guide has been produced to standardise clinical reporting of RSD-like lesions to support ongoing monitoring of this condition across salmon rivers. It also serves to distinguish this emerging condition from other, frequently observed skin lesions in migratory salmonids.
f you encounter a fish exhibiting these symptoms (see images below) please contact the relevant district salmon fishery board and the Fish Health Inspectorate (details below). Fisheries Management Scotland are collecting data submitted by anglers and others through the Fisheries Management Scotland app.
Typical signs – images courtesy of Reuben Sweeting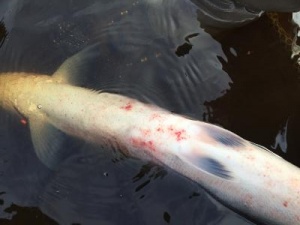 Contact Details for Fish Health Inspectorate
Fish Health Inspectorate
Marine Scotland
Marine Laboratory
375 Victoria Road
Aberdeen
AB11 9DB
Tel: +44 (0) 131 244 3498
Fax: +44 (0) 131 244 0944
Email: ms.fishhealth@gov.scot
England: To report fish mortalities or fish in distress please contact the Environment Agency incident hotline on
0800 80 70 60. For further information on RSD please contact our National Fisheries Laboratory on 02084 745244
or email fish.health@environment-agency.gov.uk

Wales: contact the Natural Resources Wales hotline on 0300 065 3000, or visit the website: Natural Resources
Wales / Report an incident. For further information, contact fisheries.wales@cyfoethnaturiolcymru.gov.uk

Ireland: contact Inland Fisheries Ireland. Tel: 0818 34 74 24, or email salmonhealth@fisheriesireland.ie