The Missing Salmon Alliance (MSA) invites the public to join them for an evening in conversation with key UK conservationists to discuss invasive Pacific Pink salmon and their potential impact on native Atlantic salmon.
With speakers including Jonathon Muir (Atlantic Salmon Trust), Alison Baker (Atlantic Salmon Trust), and Brian Davidson (Fisheries Management Scotland), the free online event will take place on Tuesday 5th September 2023 from 6pm-7pm. The audience will hear from each speaker as they discuss the latest pink salmon research, and share news on the management strategies being trialled, before having the opportunity to ask questions.
Sign up for the free online event at Invasive Pink Salmon – Managing The Threat | Eventbrite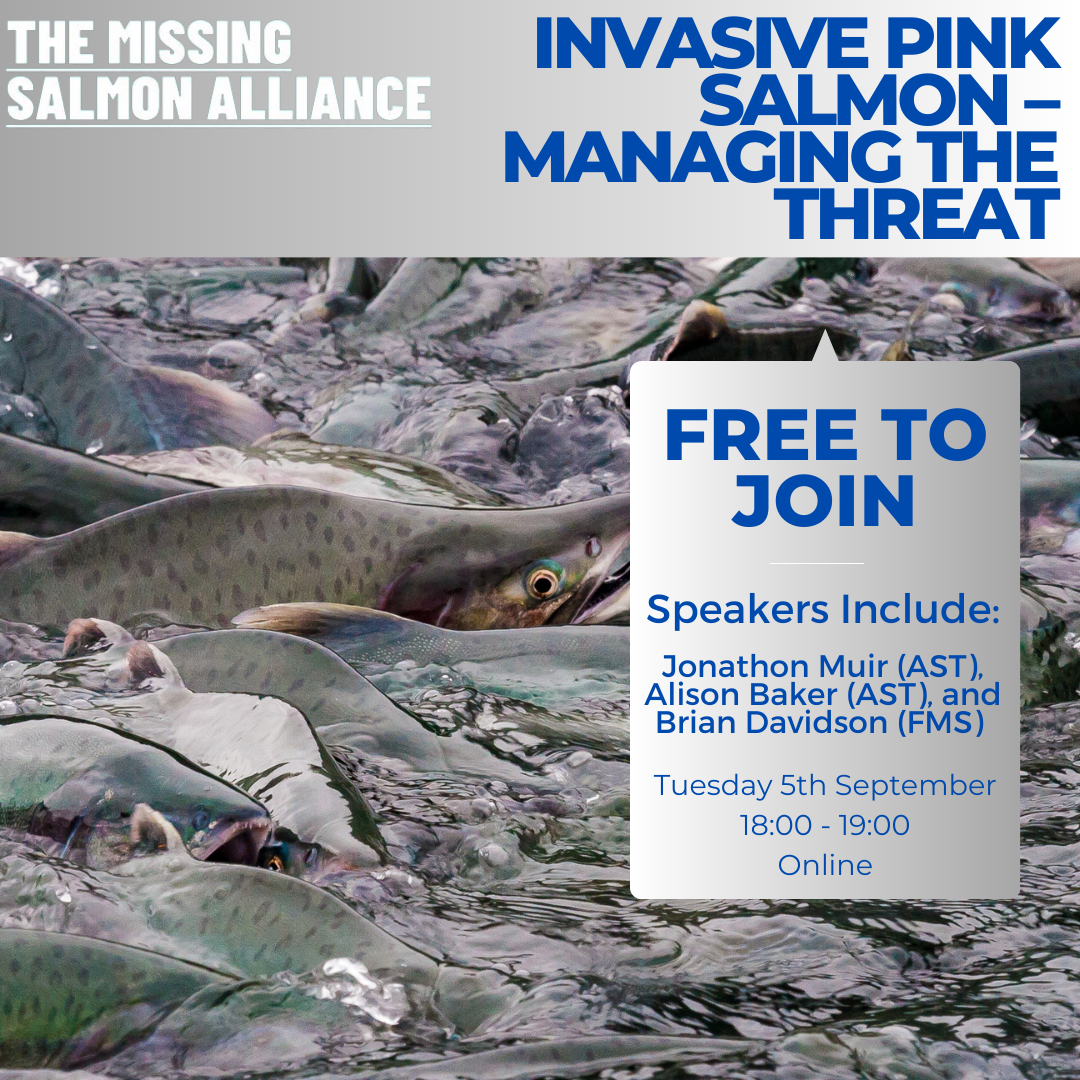 Footage of the first recorded sighting of invasive, non-native, Pacific pink salmon in UK waters this year was recorded on the River Laxford in the Northwest Highlands of Scotland on the 29th June 2023 as part of the monitoring programme for the Atlantic Salmon Trust's Project Laxford. Pink salmon, native to places like Alaska and Canada, were artificially introduced by the Soviet Union to the Atlantic in the 20th Century and are now spreading to many other countries across the North Atlantic. In parts of northern Scandinavia, they are now the dominant salmon species.
MSA member, Fisheries Management Scotland (FMS) and its member network are leading on a number of management and surveillance operations. For example, there is a national eDNA sampling programme underway to establish presence/absence of pinks across Scotland. A licensed trap has also been installed on the River Thurso and is being monitored 24/7 for pinks.
This online event aims to raise awareness and increase understanding of the potential impacts that invasive pink salmon may have on our wild Atlantic salmon, and to provide helpful advice on where and how best to report sightings.