Atlantic Salmon Trust Welcome Support from Scottish Government
Fisheries Management Scotland and Scottish Land and Estates jointly hosted a roundtable discussion in the Scottish Parliament to discuss the crisis in wild salmon stocks. This was through the kind sponsorship of Michelle Ballantyne MSP, the species champion for Atlantic salmon.
Fisheries Management Scotland highlighted that environmental change and a variety of human impacts across the Northern Hemisphere are placing salmon at risk across their natural range. The roundtable discussion was hosted in an attempt to explore and identify possible solutions that can be done to reverse the dramatic decline in salmon stocks and provide an insight into ensuring a sustainable future for our iconic species.
Mark Bilsby, CEO of the Atlantic Salmon Trust, welcomed the recognition that salmon were in crisis and highlighted the need for people to urgently and collectively prioritise on issues where we can have an impact, and act with ambition and intensity. As it is only by working together and adapting our management that we can give salmon the best chance of having a future in this rapidly changing world.
Roseanna Cunningham MSP, Cabinet Secretary for Environment, Climate Change and Land Reform, took the opportunity at the roundtable discussion to announce £750,000 of financial support will be awarded to the Atlantic Salmon Trust and Fisheries Management Scotland to track wild salmon smolts on the West coast of Scotland.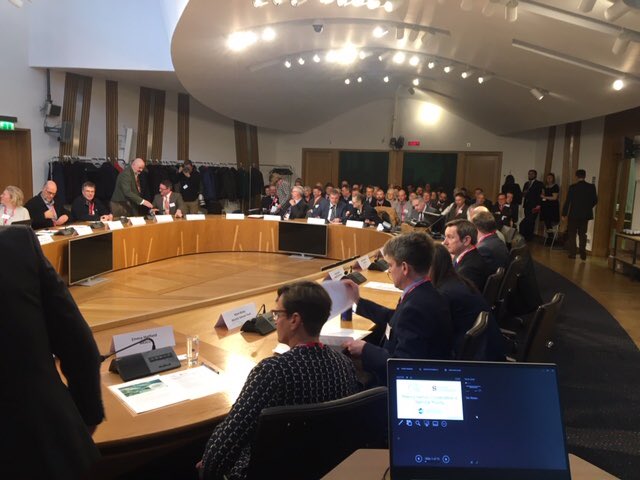 Commenting on the award, Mark Bilsby said:
This work builds upon the tracking undertaken in the Moray Firth and will give us a much clearer understanding of where the smolts are going on the West coast of Scotland as they head to their feeding grounds.
It is going to be a major challenge delivering the West Coast Tracking Project this coming Spring. Thankfully we have the kind support of the Fishery Boards and Trusts from up and down the West coast, who without the support of these individuals, or of the Scottish Government, we would not be able to complete this work.
For the first time this will let us compare results from both East and West coast to better understand salmon migration and to further assess who, or what, is responsible for this iconic species to go 'missing in action'.
The West Coast Tracking Project will help identify the migratory pathways that our smolts take on their journey to sea, and assist in providing better knowledge of potential challenges that they may face.
The information that this project collects will play a key role in providing better evidence to form better management, which will be used to benefit our beloved bars of silver.
Related Content:
Making Salmon Conservation a National Priority by Fisheries Management Scotland