Tracking and protecting our wild salmon
Right now, there is very little information about what happens to our young salmon as they journey around our coasts. This presents a number of problems when trying to safeguard this important species. If we do not know where they are going, for example, we cannot make informed decisions to minimise the impact of the dangers they face.
The West Coast Tracking Project will fill this gap in our knowledge, tracking wild Atlantic salmon over a three-year period to better understand their migration routes and, ultimately, to inform policy on how best to look after them.
A focused approach
While it is not practical to track fish from every river on the west coast of Scotland (there are over 80 rivers with salmon in the Hebrides alone!) Marine Scotland has developed a model that predicts how fish will move out from the coast. The West Coast Tracking Project will be used to test and strengthen this model, and guide its predictions. With this information we will then be able to determine whether developments are in the right place, or if they need to be relocated in order to protect wild salmon. Examples of potential impacts include exposure to elevated sea lice levels or collision with a renewable energy installation, such as an underwater turbine.
A collaborative effort
Only by pulling together our research and resources can we secure a sustainable future for wild Atlantic salmon. The AST team is working in partnership with Marine Scotland and Fisheries Management Scotland, to make this project happen.
It is Scottish Ministers, advised by officials and research staff at Marine Scotland, who make the legislative proposals to the Scottish Parliament regarding the protection and recovery of wild salmon. If you want a real change in how they go about this, then working in partnership with them to deliver the best evidence to inform this advice is vital.
Fisheries Management Scotland and their member Boards and Trusts have both the statutory remit to protect wild salmon and, crucially, a wealth of local knowledge and expertise which is fundamental to the successful delivery of this project on the ground. Without solid support from all of these organisations, this project would not have come to fruition.
The project partnership is supported by a team, led by Professor Colin Adams at University of Glasgow, that will boost our combined technical and analytical delivery capabilities to ensure that we deliver the best science for salmon and sea trout.
The West Coast Tracking Project will not happen in isolation. There are other major initiatives currently taking place across the UK, such as SeaMonitor and COMPASS, as well as others run by Marine Scotland, NatureScot and the Zoological Society of London. Crucially, the tags and receivers across these projects are all compatible with one another. This means salmon will be detected on all of the arrays, which will lead to a far greater understanding of how these fish are moving out to sea.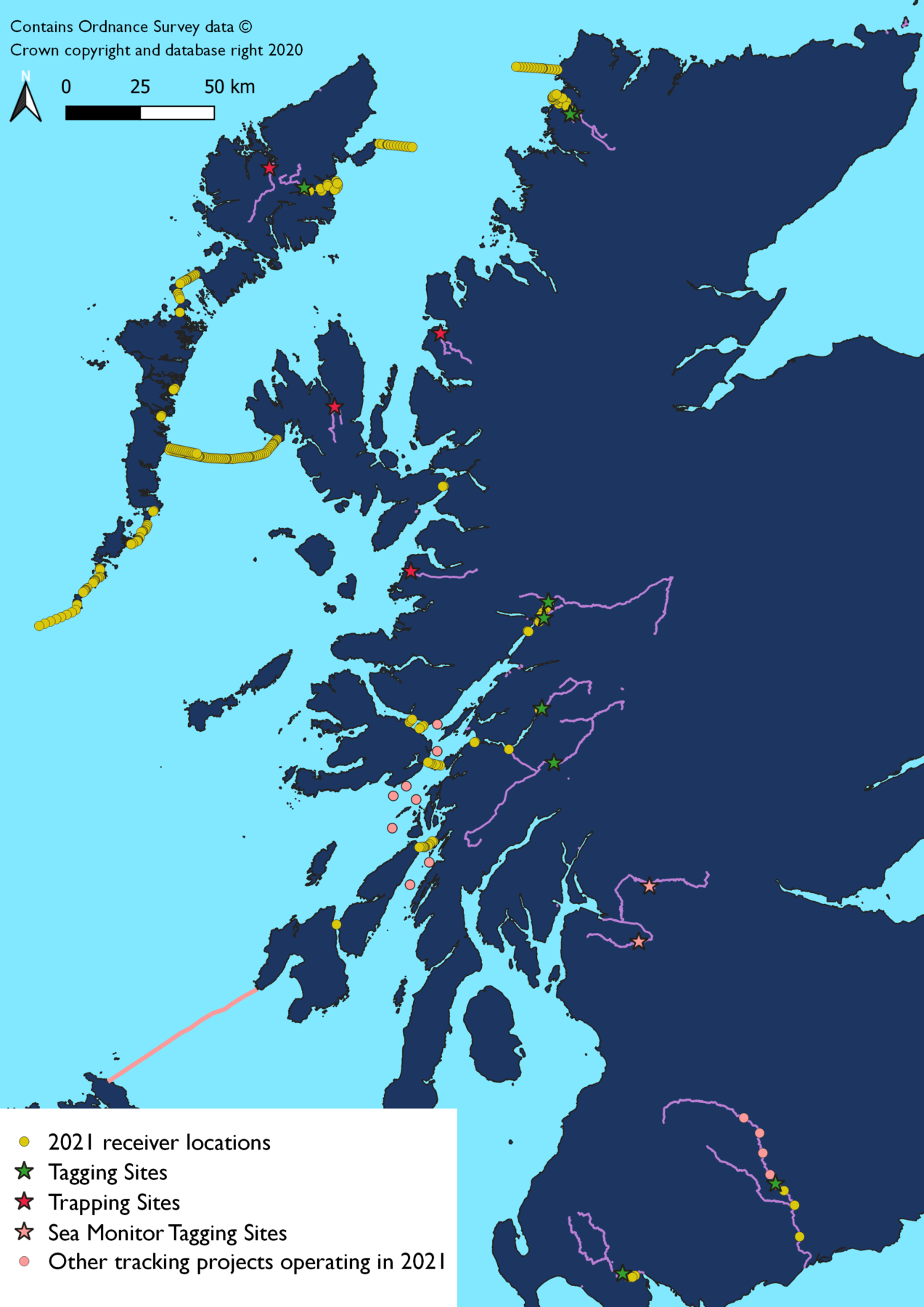 What does the project look like ?
The project is being built up in stages. In 2021 the aim is to gain an overall picture of how the smolts are migrating and distributing themselves across the whole western seaboard of Scotland. We plan to focus on areas of interest around coastal features, such as how smolts migrate around the Isle of Mull. In subsequent years we will be using the information gained to refine the resolution and gain a more detailed insight into the salmon's migration and distribution pathways.
What will it cost and who's paying ?
In the autumn of 2019 the cost to trap and tag 800 salmon smolts and to deploy the receivers in rivers and sea was projected to be approximately £1.15 million. The AST was awarded a grant of £740,000 through the Maritime Fisheries Fund, leaving a shortfall of approximately £400,000. As the AST recognised the value and urgency of undertaking the project, with the generous in-kind support of the Boards and Trusts on the ground, the AST decided to underwrite this shortfall so that the work could go ahead.
Due to the postponement of our tracking studies in 2020, we were able to review the funding and look at how we can make up the shortfall, as the pandemic has been hard on all charities. While the capital equipment to run the project has been purchased and can be carried over to subsequent years, ongoing costs include purchasing replacement tags, trapping operations and the deployment and collection of equipment before the findings can be reported on. Overall, this project will cost in the region of £636,000 to run in 2021, with similar amounts for the following two years.
This process is still underway, but it will potentially include a mix of public, private and industrial funding; this is a common funding model used by AST and matches our objectives of partnership delivery. For the West Coast Tracking Project, our industrial partner is aquaculture, in the same way that renewable energy was for the Moray Firth. Whilst we know that the involvement of funds from the aquaculture industry will be contentious for some, we think that it is right that they contribute to understanding the issues wild salmon face. A strong scientific evidence base will enable wild and farmed salmon interactions to be proactively addressed in mature and constructive ways.
Overall, we know that the value of the work will be judged on its scientific merits and, like all our projects, this independence is maintained by separating the funding from the science. To this end, there is a clear governance procedure to ensure the independence and robustness of the science. In addition, the results emanating from the West Coast Project will be published in independently peer-reviewed scientific journals, adding yet another layer to the robustness and objectivity of the overall project.
This project is classed as restricted funding for the AST and the money raised for the project can only be spent on the project and not the wider funding of the AST. As such the AST will not benefit financially from the project, rather it is actually contributing to the work by continuing to fund and underwrite the costs of this urgently needed work.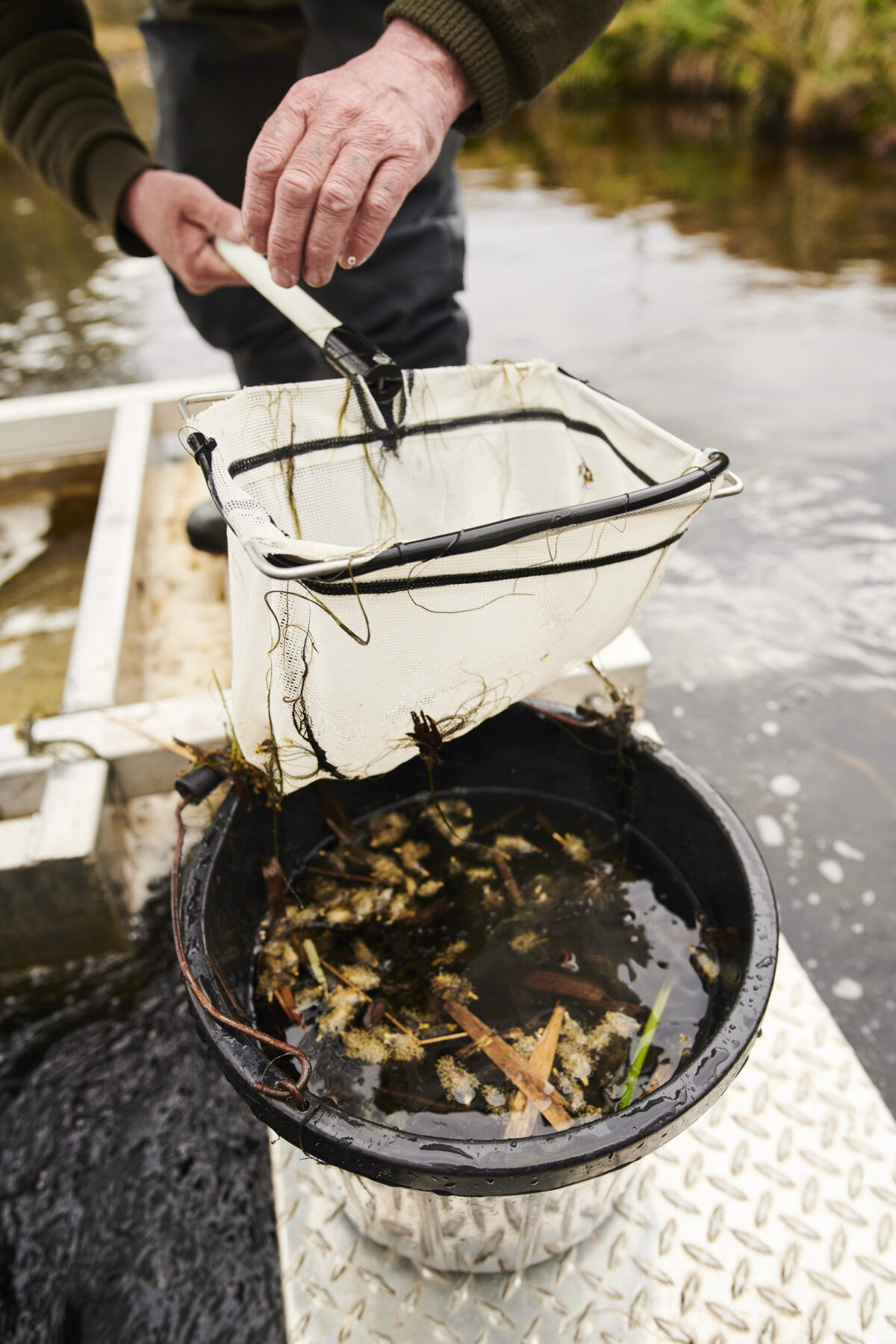 Why get involved ?
AST did not take this decision lightly. Before embarking on the project we also considered what would be the implications of not getting involved. After talking to wild salmon fishery managers on the ground, the view was that if we did not take this forward it would be at least another four to five years before another opportunity arose to find out how we could best protect wild fish. It is now generally accepted that salmon numbers are in crisis and this iconic species simply does not have the luxury of time. We recognise that this was always going to be a contentious issue. The AST felt that we should embark on this work as it would ultimately benefit wild salmon, and that is our guiding principle. It is only substantive action on the ground, rather than rhetoric, which can possibly safeguard wild salmon's future.
There should be absolutely no doubt that the AST mantra of putting #WildSalmonFirst is at the forefront of this project's objectives, and it is with this in mind that we are involved.
When will all this happen ?
We deployed all our receivers in both rivers and at sea earlier this Spring. The tagging phase was carried out during the key time period: the smolt run, between April and May. Smolts were also trapped during this time, using both a Fyke Net and Rotary Screw Trap, before being tagged and continuing their journey to sea.
The fish will then be followed on their journey until the end of July and we will begin collecting the receivers in August, with a view of sharing the preliminary results later this year (2021).
---